One of the most well regarded finger-style guitarists of his generation, Stephen Bennett is also a leading exponent of the harp guitar. A challenging teacher, a gifted composer, and a performer of "great sensitivity", the Toronto Finger-Style Guitar Association has referred to him as "the Jedi Master of Finger-style Guitar".
Stephen has performed around the world, shared the stage with some of the finest guitarists there are, and created a sizable body of work.
From America: "Stephen's music draws the listener in. He has the ability to make you feel as though you are a part of the music he is making."
From France: "Stephen's compositions are so beautiful, filled with great emotion and great sensitivity. He is one of those musicians who serve the music, and only the music."
From Canada: "Sitting there watching and listening to this guy hunched over his harp guitar exuding this strange calmness and wisdom through his music just made me think of the Jedi Master, Yoda. So, the Jedi Master moniker is not promoter hyperbole, it was a genuine reaction to hearing Stephen for the first time three years before I started promoting guitar concerts."
From Italy: "When I first heard him playing a few years ago, I felt like I had been pushed into a different world, where the lost emotions come back to your heart and make it beat in a different way. What Stephen can do, and few artists have this gift, is to speak directly to your heart and to move your best feelings!"
From Japan, perhaps this photo says it best.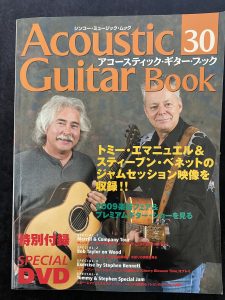 He's also the founder of the Harp Guitar Gathering, an annual event that brings players, luthiers, scholars and fans of this instrument together for a weekend of performances, workshops and camaraderie. The 21st annual Harp Guitar Gathering takes place in Mooresville, NC October 27-29, 2021.