June 25th, 2019
New music arriving soon! Physical copies of Passages (my 32nd recording!) will be in my hands within the week and so I've put the cd up for sale here on the website. Try it, you'll like it! Cover art by my sister, Joanna.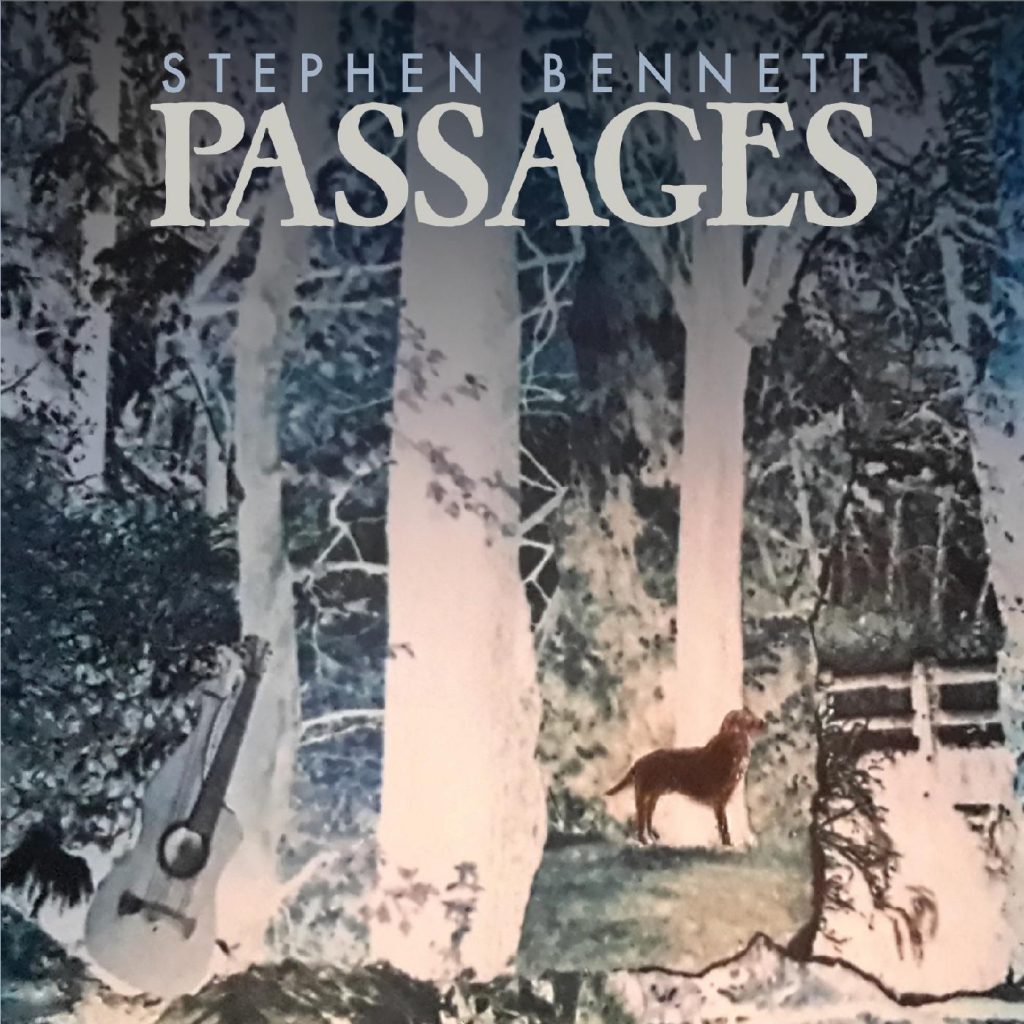 February 22nd, 2019
A collection of 15 tracks has now been mixed by my friend, engineer-extraordinaire Kim Person. There are a bunch of new compositions, a couple of tunes I composed 40 years ago and forgot about, and a couple of cover arrangements. There are tunes for harp guitar, 12-string guitar, standard guitar and banjo. (Did he say banjo?). Yes, he did. I even played drums on one tune. That tune is called Mr. Fuzzybutt. This is as sure a sign that the end-times are upon us….head for the hills! Anyway, as the subject line indicates, I've placed the order. Oh, it's called Passages. And I bet you'll like Mr. Fuzzybutt. (It's what I often call my dog, Max). Actually, it's just fun saying Mr. Fuzzybutt. Give it a try! I know you feel better now.
December 21st, 2018
One of my favorite people in the world passed away a few days ago. Hirokatsu Takai was a wonderful musician and a gentle soul. Here's a wonderful tribute posted this morning by my friend Gregg Miner on his blog at harpguitars.net
I met Hiro in Japan in 2004 and saw him there again a year later. He showed me around Yokohama one day and I played a show that evening that he'd arranged for me. Here's a tune called Cherry Blossom Time I wrote about that second of my 3 trips to Japan.
Rest in peace, my dear friend. I already miss you…
December 5th, 2018
Thank you! And just in case you haven't found it yet, there's a Stephen Bennett Holiday Channel that features music from my three recordings for this time of the year: The Nutcracker Suite for Guitar Orchestra, Christmas (Acoustic Guitar Solos), and The Nutcracker (Complete Ballet Score for Guitar Orchestra). Check it out! Did I remember to say thanks?
August 29th, 2018
Just checked my Pandora stats (as I do most days) and noticed that Tom & Sally just joined 31 other tracks of mine in crossing the million mark there. Burnside, a tune I wrote for my son Will, is my top tune there and is coming up on the 7 million mark. Many thanks to all of you who listen to me on Pandora, as well as on Spotify, Amazon, I-tunes, etc!
August 23rd, 2018
Greetings. I'll be at the Tomkins Corner Cultural Arts Center on Saturday. If you're in the vicinity, come on out!
July 4th, 2018
Greetings all. And a happy 4th of July to you and yours! I'm headed to California in the morning to teach at Andy McKee's Musicarium, along with Andy, Don Ross, Eric Johnson and Michael Manring. Should be good fun! Then next week I have a couple of shows in Virginia. Harrisonburg on the 12th and Richmond on the 13th. For details
In recorded music news, I have physical copies of a new cd project. In 2004, I put out a 29 tune double cd called Harp Guitar – A Compilation. The new release is another 29 tune double cd and is called Harp Guitar – Another Compilation. Clever, huh. Ok, not so much. But it is straight to the point. Everything on it has been previously released except for 2 tracks. One is my tune Nancy B, but with a high strung guitar part added. The other is a remix of the tune The Old Home Place which is a duet with my brother Jim on piano. This track is a remixed version of the original recording. It's available on the store page.
Best to all,
sb
June 5th, 2018
Greetings to any who seek out or simply happen upon this digital place. I'm just doing one show this month, this Saturday in Colchester, CT. For info, click here.
But that doesn't mean I've been slacking off. I've actually been on something of a compositional roll lately and now have enough material for my next recording. There's a lot of new harp guitar music, a couple of harp guitar duets, a couple of guitar tunes, a couple of 12-string tunes, and a few other things. I'll start recording that music next week.
I do have a new cd coming out within the month. In 2004, I released Harp Guitar – A Compilation. It was a double cd with 29 tunes (mostly my compositions) from my first dozen years of playing the instrument. Coming out now is another double cd with another 29 tunes (again, mostly my tunes) from 2006 through 2015. This one's called Harp Guitar | Another Compilation. Maybe not very imaginative, but straight to the point!
Best to all,
sb
April 25th, 2018
Greetings all ~ I went down to Ocean County Community College in southern New Jersey a few days ago to do a presentation for their Music Club. My friend Mark Farley teaches guitar there. I played in the Planetarium and sure enough, they had an image of what astronomers call The Eye Of God, and which is also, as you may know, the title of one of my pieces. So that was fun! Now I'm sticking around home for several weeks, working on tunes for my next recording. But I'll be heading before long up to Toronto to play for Fingerstyle Guitar Canada. Thanks to my friend Randy Finney, both for his comments and for arranging the May 18/19 shows. Lastly, it was with a heavy heart I heard the news about the mayhem in downtown Toronto a couple of days ago. There's just too much senseless violence in the world, too many young guys that get it in their heads to murder complete strangers. As if that makes anything at all better…