January 4th, 2018
I hope your year is starting off well. As for me, I'm settling into a couple of months of composing and experimenting. I have more shows scheduled this year than in a while. I'll play in Florida, California, Virginia, Connecticut, Kansas, and briefly in Pennsylvania, as well as a couple of shows in Toronto. I'll teach at Andy McKee's camp in California and Pete Huttlinger's camp in Montana this summer. And I'll be hosting the 16th Annual Harp Guitar Gathering in October. Tangier Morning, my first recording was released in 1988, 30 years ago, and I'll be remixing, remastering and re-releasing that this year. Odds are good I'll put out another cd of new music as well. Maybe two. Wishing you and yours a very good year.
sb
December 1st, 2017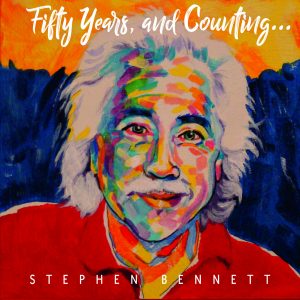 My new cd just arrived! To purchase
November 16th, 2017
Playing with Claude LaFlamme in Shawinigan on Nov 16th and with Calum Graham in Quebec on the 19th.
For info
November 9th, 2017
Here's my friend Susan Burgoyne's painting called Same Face, New Attitude that will be the cover of my latest recording. The cd is called Fifty Years, and Counting… That's how long I've been playing the guitar. (I know, I know – I should be much better than I actually am!). It's full of fun cover tunes and finishes up with one new composition of my own – it's a veritable potpourri, folks! The project has left my hands and is on its way to the manufacturing facility. I'll have copies early in December.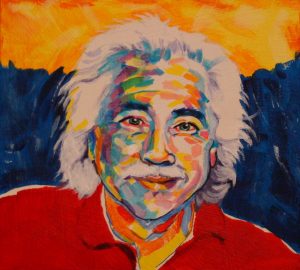 November 9th, 2017
My friend Lance Allen tells me he's just created a new fingerstyle guitar playlist for Spotify and put a couple of my tunes on it. You can check it out here. Cheers!
October 17th, 2017
Nancy and I just finished up with the 15th Harp Guitar Gathering and are now hanging out in Temecula, CA with my son Will for a few days. The Gathering is a magical event and this year was no exception. Even maybe, the best ever!
I'm looking forward to playing a couple of shows in Canada next month, in Quebec and Shawinigans.
And my 31st recording is out of my hands and awaiting some mixing magic by my friend Kim Person, engineer extraordinaire. All solo acoustic guitar, it'll be called 50 Years, and Counting… because that's how long I've been playing now.
Best to you and yours,
Stephen
August 16th, 2017
My 30th cd just arrived. Cover art by Susan Burgoyne! TO ORDER
Posted in Uncategorized | 2 Comments »
July 16th, 2017
Greetings and a happy mid-summer to all who happen by here! My latest cd is about to go to mastering and duplication. I've been listening to mixes of the tracks that have been sent by my friend, engineer Kim Person. They are sounding really good to me! This will be a different sort of cd for me. No acoustic guitar at all. Electric guitars and basses (all played by me), as well as 4 tracks with digital piano parts programmed by me. So a different sort of cd, yes. But it's still very much me. I wrote everything on this recording and very much look forward to making it available to you in just a few weeks!
Best to all,
sb
April 24th, 2017
Greetings ~
In my announcement of nominations for the Just Plain Folks Music Awards that I posted a few weeks back, I missed a few things, as in I'd actually been nominated in more categories than I realized. Turns out that my More Beatles project is up for Best Cover album, for one thing. And my High Street and Still On The Line albums are both up for Best Solo Guitar album, for another. I only noticed – and therefore mentioned the Best Cover Song nomination for my solo harp guitar version of Light My Fire and Best Solo Guitar Song nominations for Chocolate Mo and Down A Kansas Road. So that's pretty cool! Congratulations to all the other nominees in these categories as well, many of whom I know.
Also, I've got a show in southern Maryland this Friday evening, April 28th. Details
Lastly, this week I'll be sending my tracks for my next (and 30th) album – Music From Connecticut – on to engineer extraordinaire Kim Person for her tweaking before the project moves on to the mastering and manufacturing phase.
Best wishes and a good day to all of good will on planet Earth.